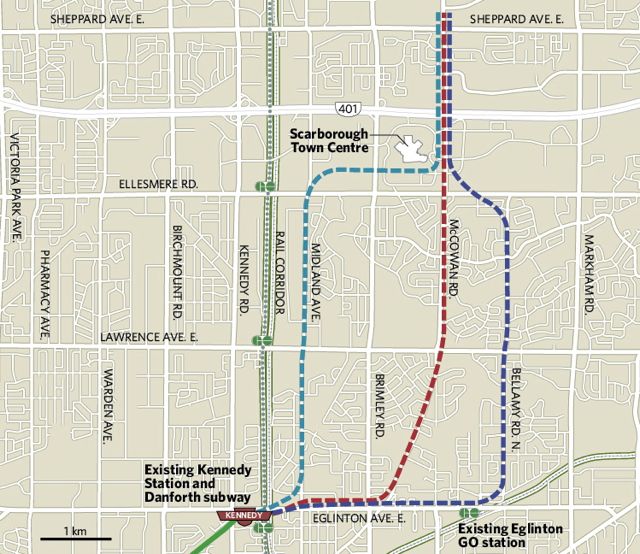 So we now have a short list of three Scarborough subway extension proposals, none of which makes sense. It's tempting to conclude that we've been presented with a couple of hopeless straw-man options that serve only to make the indefensible but politically popular Eglinton-McCowan alignment look good by comparison.
But let's forestall the usual Torontoish blackthought, especially considering at least one excellent alternative hasn't yet been stifled by politicians or the wasteful last-century assumptions that often still guide otherwise bright and well-meaning transit bureaucrats in these parts.
Though the last-chance-for-sanity option doesn't involve actual subway, it should be the most attractive option of all, even in Scarborough's subway-or-bust circles, offering fast one-seat service to Union station and easy links to the Bloor-Danforth subway and the Eglinton-Crosstown LRT at Kennedy station far sooner than any subway proposal can.
The idea, to my knowledge, first appeared in an excellent but largely overlooked 400-page regional rail report published by Transport Action Ontario in July 2013. The Star's Tess Kalinowski was one of the few to clue in, and she wrote about it back before we'd heard the term SmartTrack, before the strange subway-centred by-election in Scarborough-Guildwood, and before then-transportation minister Glen Murray proposed his two-stop subway extension from Kennedy station to Scarborough Town Centre using the existing SRT corridor.
The TAO idea enhances the worth of SmartTrack, rather than siphoning ridership from it, so it might have a political hope, especially in the mayor's office (if minds haven't closed there). SmartSpur, as we might call it, can be built faster than any other option and at an attractive price. Costs of the connection to STC from the SmartTrack line, using the east-west part of the current SRT corridor, were calculated at $425-million in 2010 dollars, with the full route to Malvern via Centennial College's Progress Campus for around $1.7-billion. I'd guess it will cost more than that, but it should still be at least $2-billion less than the Eglinton-McCowan subway idea no matter how many stations it contains (some Scarborough councillors are calling for a fourth station at Danforth Road and Eglinton).
Just think what we could do with an extra $2-billion – putting it toward the decades-overdue relief line comes to mind, as do Eglinton-Crosstown LRT extensions east of Kennedy or west of Mount Dennis (and those EAs are already done).
On the downside, shuttle buses would likely be needed to briefly replace the SRT during parts of the construction and the TAO estimate does not include SRT demolition costs. And, of course, SmartTrack will eat up finite capacity at Union Station and on the Lakeshore East GO lines. But while all the subway extension ideas would aggravate crowding on the Bloor-Danforth, which is already at capacity westbound from Main Street in the morning rush, SmartSpur would provide a little temporary relief both on the line and at the dangerously overcrowded Bloor-Yonge transfer point.
Some (including a few in the mayor's office, I'm told), fear SmartTrack would cannibalize potential ridership on a subway extension, projections for which are already dubious. Instead, they should open their minds and be looking at having SmartTrack/SmartSpur cannibalize it altogether, with subway-like frequency and TTC fares on the GO corridor. It's what the mayor promised in the election campaign, but taken to a logical conclusion.
Of course, this is Toronto and there's the possibility the idea makes too much sense.
Simple and brilliant as SmartSpur may be, it was my second choice for most of the past two years: A 10th subway alignment – shorter, more direct and with major value-capture possibilities from publicly owned real estate – would almost certainly have delivered the best value long-term. But Alignment 10 died behind the scenes at City Hall in recent weeks and didn't even make city planning's menu of nine, likely because transit entities and bureaucrats still don't seem ready to wrap their heads around international best practice for funding and achieving returns on subway investments. They also have a costly and irrational aversion to open-cut and cut-and-cover subways, which though messier to build, are far less expensive (see the Yonge line, Bloor to Eglinton).
Anyway, for now, there's a ray of hope, and I'm calling it SmartSpur.